Creative Marketing
Promote a water ride with a toilet bowl? DONE IT!
Tease a new thrill ride with a hairstyle? NO PROBLEM!
Need a fresh way to promote your attraction? THAT'S OUR JOB!
This is where we've earned our nickname "The Big Idea People!" Take your promotional messages to the next level with a full-scale creative campaign. Give your potential customers a message they'll remember and be talking about long after they've seen/heard it!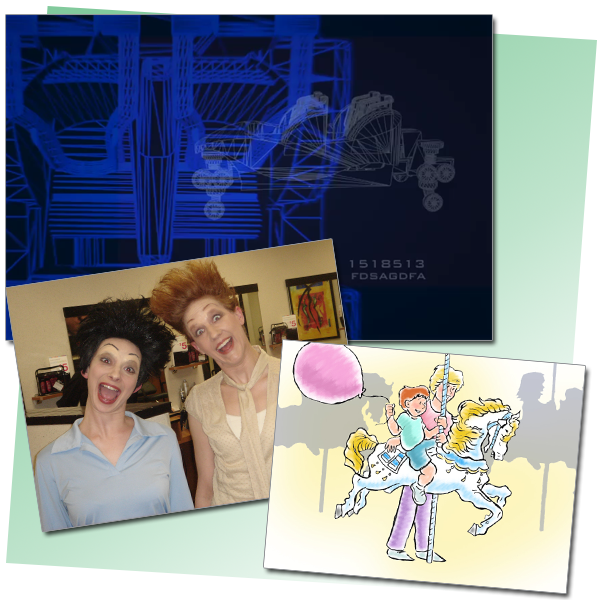 Commercial Production
Take your TV & Radio commercials to the next level … or just give them an attractive & refreshing new look and sound! Our production team are masters in knowing how to package an amusement facility and attract new visitors.
In the modern age of DVRs, Netflix, satellite radio, iPods, and smart phones, it's more important than ever to make sure that when you commercial is seen or heard, it grabs the audience's attention and leaves a memorable impression.  This is our forte!
Jingle Production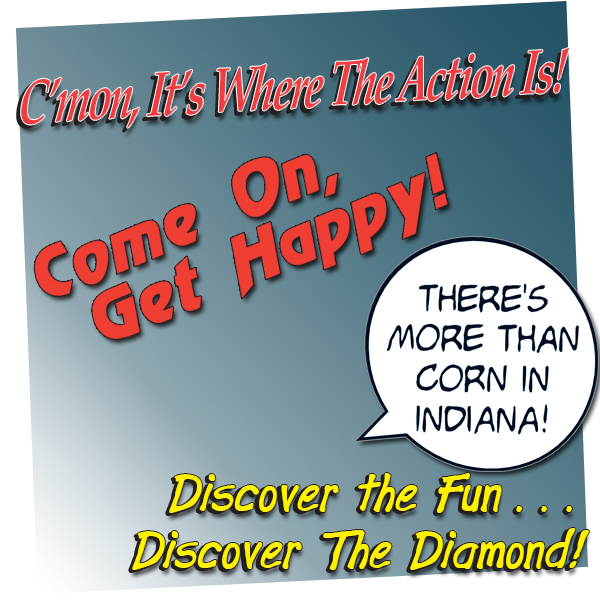 Great music adds emotion, pace and impact.  The right music makes drama more dramatic and comedy funnier.
We'll create a custom jingle just for your facility, helping to give you a unique identity within your marketplace.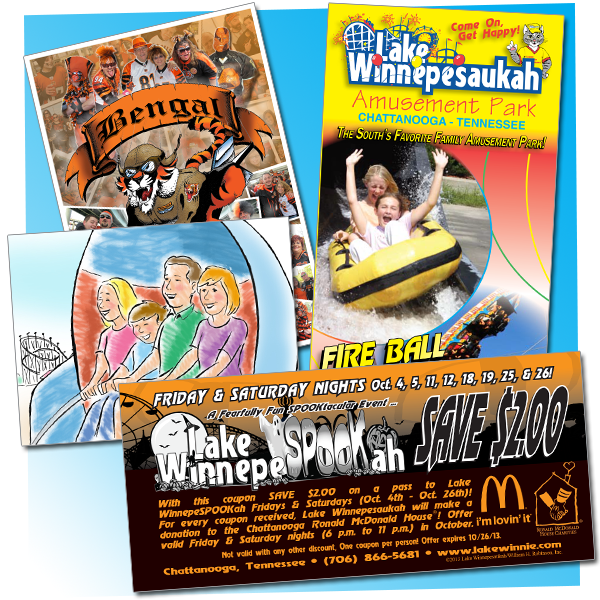 Graphic Design
Our graphic design & art department specializes in selling the business of FUN!  Custom brochures, promotional material, posters, coupons, and more that will showcase your facility and excite your audience to make a trip to your front gates is our goal!
We have over fifty years of experience in selling fun to families, teens, tourists, and guests of all ages. Let our experience and expertise work for you!
Website Design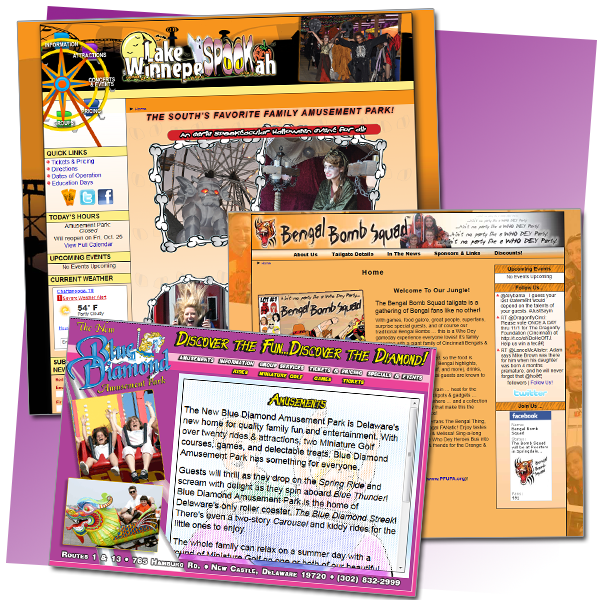 Without a doubt, the business has changed in the past several years … every facility must have a website! It's your fastest link to your customer when they aren't inside your gates.
Whether you need your first website or a redesign to keep yours fresh … whether you're looking to create a top-of-the-line, animation intensive site or a simple content manager-oriented website … our team will work to create a website that not only puts your facility's best foot forward, but also fits within your budget and leaves room for you to adapt and change it in times to come.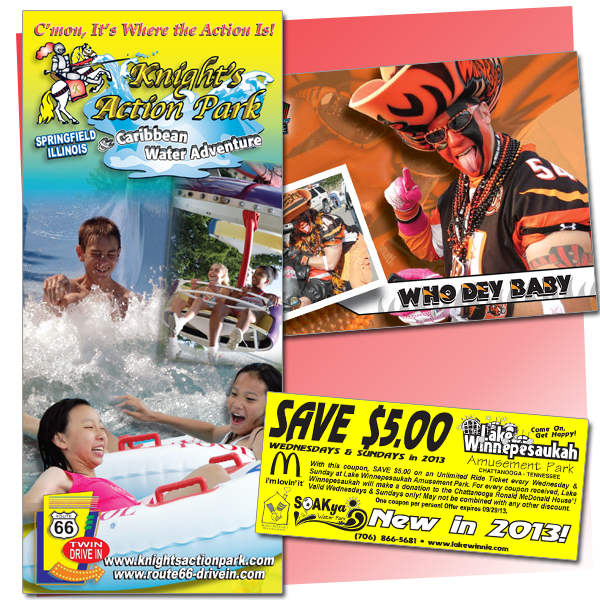 Specialty Printing
Promotional signage, brochures, tickets, coupons, and more … our printing experts have over a century of experience in printing for the amusement & entertainment industry! After taking the time, creativity, and dollars to create a quality rack brochure or poster, why just hand it over to the nearest print shop to deliver the final product? Our printers take as much care and time in printing your material as you've taken in creating it.
Die-cutting? No problem! Folded? No problem! Metered mail? No problem! Our facilities can do it all, and can do it all with care and attentiveness like no other.
Promotions
Spread your message with promotional partners, discount tie-ins, and other lucrative partnerships with other businesses that appeal to your market! We build on our past relationships and your existing relationships with promotional partners of all kinds to help raise awareness of your facility and all that it has to offer! Our fifty-plus years of experience can open new doors of marketing and new avenues of awareness right in your own backyard.
Consulting
Our team has years of first-hand experience in all aspects of advertising & marketing, including Group Sales and Social Media! Let us work with your current staff to focus your efforts, evaluate what their doing, and guide them to taking their performance to the next level and beyond.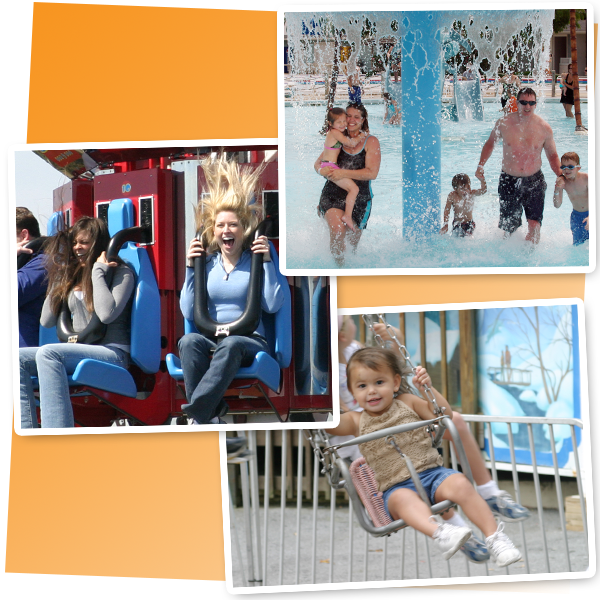 Photography
William H. Robinson, Inc.'s staff are experts in capturing the images of fun and smiles that sell in amusement facilities. Years of experience within the amusement industry helps us know just the right moments to click the camera and retain that awe-inspiring look of glee on a guest's face on just about every type of attraction.